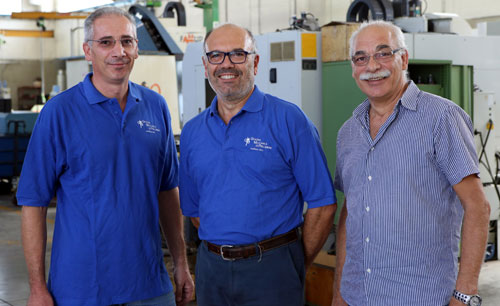 When O.M.P. sas was founded in 1989, it could only count on the desire of three young artisans who like all their contemporaries dreamed for themselves and the other companies made by men for men.
In over twenty years of activity those three young men have grown but their dream remained unchanged. This has allowed a company operating in precision mechanics to change, to adjourn, to grow without losing sight of its goal to have a technologically advanced company that aims to enhance men.
Many situations have changed. Information technology has completely monopolized all companies. The workshops and warehouses of ancient memory have given way to companies in which automation has led to design and create different types of machines providing them with digital controls rather than mechanical or analogic control.
The design techniques are achieved today through sophisticated software that optimizes time and resources. Compared to the past, even the research of the materials used for the construction of machines and tools has changed.
The ecology and everything that is eco-friendly have led to the improvement of the quality of work by minimizing the exposure of the personnel to any type of poisoning resulting from material processing.
With us everything is handled with great precision, respecting the environment and the people.
After over twenty years of activity we have received much satisfaction and recognition given our the relationships with companies, large companies, both domestic and international. This allowed us to grow as people and as professionals enriching our wealth of experience. Our company today, despite the advent of modern technology, has tripled its staff.
Much more we can do, a lot we must do without ever forgetting that dream we had over twenty years ago.
Luigi, Mauro, Luigi.