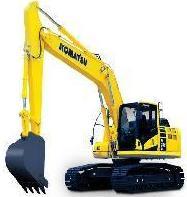 Already a leader in the worldwide excavators, Komatsu is exceeded, by launching a new line of machines with a record-breaking technology: the Series 10.
It was held in Newcastle, on the factory of Komatsu UK, the official launch of the new, prestigious Series 10 hydraulic excavator Komatsu: PC240NLC-10, PC290NLC-10, PC360LC-10 and PC490LC-10.
There are six plus to highlight: low emission, fuel efficiency, safety summit, increased productivity, reduced operating costs and further enhanced comfort. First, the new machines are equipped with engines certified according to EU Stage 3B and EPA Tier 4 Interim. These common-rail engines, characterized by a hydraulic control system of the exhaust gas recirculation valve, by a filter capable of capturing more than 90% of particles, and by a system of oil recovery and emissions from the vent of the engine, can ensure not only reduced emissions of NOx and PM, but also exceptional performance in terms of productivity and low fuel consumption.
In connection with the killing of consumption, it is worth mentioning also the new ways of working Attachment Economy Mode and targeted functions of the monitor in the cab, just dedicated to consumption: in fact, the operator can not only occur directly on the monitor data consumption fuel, but also display suggestions for the best efficiency in use of each function. This opportunity is ensured by the new version of the satellite system KOMTRAX ™ installed on hydraulic excavators Series 10, with additional functions, for the purpose of better and better management of the machine.
Other pluses of this series are 10 security at the top - these new excavators mountain first new ROPS meets the latest standards ISO12117-2: 2008, designed to withstand the highest impacts and provide protection in the event of rollover - and further increased comfort. Inside the cab, the operator can perform their work on a new pneumatic seat heated high back and find the console with joysticks integrated with the seat, as well as a new technology monitors 7-inch color high resolution with 25 selectable languages. "